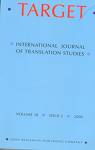 Target:
International Journal of Translation Studies


--------------------------------------------------------------------------------

is edited by GIDEON TOURY and JOSÉ LAMBERT and published by John Benjamins (Amsterdam).


Target promotes the scholarly study of translational phenomena from a thoroughly interdisciplinary and international point of view. Rather than reducing research on translation to the practical questions asked by translators, their committers or their audience, the aim is to examine the role of translation in communication in general, with emphasis on cultural situations and theoretical, methodological and didactic matters. Attention is given to the relationship between translation and the societal organisation of communication.


Target provides a forum for innovative approaches to translation. It publishes original studies of theoretical, methodological and descriptive-explanatory nature into translation problems and corpora, reflecting various socio-cultural approaches. The extensive review section discusses the most important publications in the field in order to reflect the evolution of the discipline.